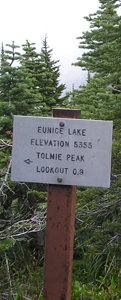 From the National Park Service website: "In 1833, Dr. William Tolmie sailed from London to Fort Vancouver where he awaited assignment. After seeing 'The Mountain,' [Mount Rainier] he was captivated and subsequently made a visit to collect "herbs of which to make medicine." Research now shows that Tolmie actually ascended Hessong Rock."
There is a lake called Eunice Lake visible after 2.2 miles into the hike. Many of the guidebooks say that it is a good stopping point if you don't wish to go up the most strenuous part and see the Tolmie Peak Lookout.

I still wanted to go up to the peak, but it was after noon when I got to the lake, I had been hiking for over an hour and I was very tired. So I stopped for a some lunch. The clouds were blocking the beautiful views that the books tell you about of Mount Rainier, but I found a nice rock to sit and look at the lake. Now, I had heard about how Grey Jays live in the mountains and are very people-friendly, willing even to eat out of human hands. So when I got a visit from a couple winged friends, I thought I would try my hand at feeding them. They kept coming back for more.